Last night I was talking with a friend about my LOVE for the movie
Red Sonja
.
It was released in 1985 and started Brigitte Nielsen in the title role and Arnold Schwarzenegger as her love interest/ fellow warrior AND Erine Reyes Jr. who was in every shitty fighting movie in from 1985-1995.
After her family is murdered, a young woman named Red Sonja becomes a master of the sword and seeks revenge on the evil queen responsible for the mayhem that has befallen her. Also, it seems the queen has stolen a powerful, carefully guarded, glowing orb right before it was meant to be destroyed, one that has powers of its' own, allowing for the possessor to control elemental forces and call down storms and earthquakes, if they so wish. Kalidor, one of the individuals in place to oversee the destruction of the orb, joins forces with Red Sonja, as their paths may differ, but they ultimately lead to the same place. An impudent, young prince named Tarn and his guard/manservant Falkon, whose kingdom was unceremoniously wiped out by Gerden as a test for her newfound powers, soon joins them. Source

It's a classic bad 80's sword and sandal epic along the lines of Conan and The Beastmaster (also faves of mine). And it was good because Brigitte Nielsen was hot and kicked ass.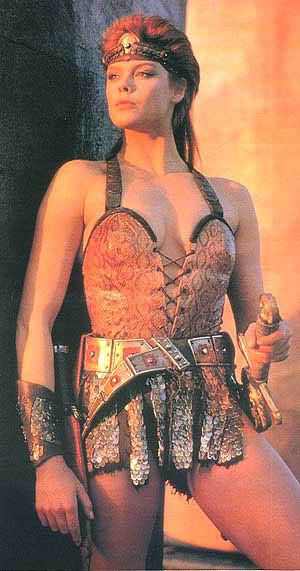 This movie was so bad that Brigitte Nielsen was awarded a Razzie in 1985 for worst actress and Arnold Schwarzenegger even admitted that it was the worst movie he ever did. Personally I think these are only reasons to love the movie more.
This morning I find out that my childhood pleasure is being corrupted by a remake of
Red Sonja
staring Rose McGowan and produced by Robert Rodriguez. Now I have nothing against Rose but she isn't the tough kick-ass broad that I would envision in this role. How about one of the chickys from
The Decent
or maybe even Lena Heady? Any suggestions?