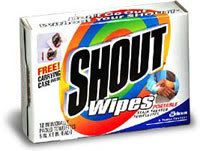 I'm a bit of a slob and in the midst of my overzealous appreciation for my iced coffee and munchkins I spilled coffee all over my nice white shirt and I have to go a fancy fashion thingy tonight :-(
Ah ha!! I busted out some Shout Wipes, that I have on hand at my desk to deal with these types of sloppy bitch moments, and lo and behold they actually work.
I give these wipes "three snaps up in Z formation" for saving me from myself.